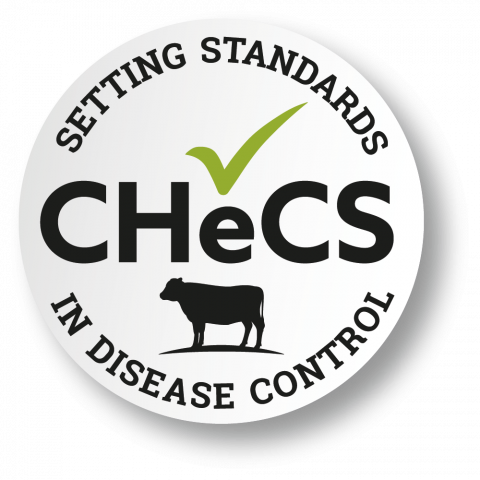 Register HERE
---
About CHECS TB Entry Level Membership & BATVA
CHECS TB Entry Level Membership is a baseline biosecurity standard comprising achievable measures recognised by BCVA, Defra and the Welsh Government to reduce risk of a TB breakdown. CHECS sets the standards for TB Entry Level Membership but, as with all other disease programmes, it is administered through participating cattle health schemes and licensed and quality controlled by CHECS. In this case, the BCVA BATVA programme.
Farmers and cattle owners who wish to become CHECS TB Entry Level Members must comply with at least one biosecurity option from each of six different biosecurity Risk Factors.
A BCVA-Accredited TB Veterinary Advisor is required to complete a declaration alongside the cattle owner and submit the form to their cattle health scheme before Membership can be granted.
As well as being a standalone standard, CHECS TB Entry Level Membership forms the biosecurity basis of CHECS TB Herd Accreditation, and from 1 August 2021, anyone wishing to become Herd Accredited will need to have first completed Entry Level Membership.
What are the six risk factors?
• Risk Factor 1: Minimise TB risk from purchased cattle
• Risk Factor 2: Minimise TB risk from contact with cattle in other herds
• Risk Factor 3: Minimise TB risk from your own animals
• Risk Factor 4: Minimise the spread of TB through muck or slurry
• Risk Factor 5: Reduce TB risk to and from badgers
• Risk Factor 6: Have a TB breakdown contingency plan
What is the role of the vet?
The vet needs to sign off the farmer's commitments to improving biosecurity. To do this, they need to have undertaken the short (around 4-hours) BATVA training course, which can be completed over several sessions if required.
The training includes a range of modules delivering the latest information on risk factors in TB spread, epidemiology of the disease in badgers and cattle, as well as communications and engagement skills.
Why is the training required?
Knowledge about bovine TB is evolving rapidly. As CHECS TB Entry Level Membership is about starting a conversation about risk pathways between veterinary surgeon and farmer, the BATVA course will equip veterinary surgeons with the latest information they need to advise their clients with even more confidence. Unlike other disease control programmes or CHECS TB Herd Accreditation, there is no confirmatory testing associated with Entry Level Membership, so training also helps to give the veterinary surgeon the right support about the chosen interventions.
Are ATT's able to take the Online Training?
Yes. ATT's are able to complete the Online Training. The only difference is they will not be accredited.
About BATVA
Vets who sign off the TB Entry Level Membership declaration will first need to undergo a half-day's online BCVA Accredited TB Veterinary Adviser (BATVA) training course, available to any qualified vet (£10 for members, £55 for non-members).
There are 6 sections to work through:
Module 1 – Introduction. Understanding and Engaging Farmers in Disease Control - 45 minutes
Module 2 – Control cattle to cattle risk – purchased cattle and spread between herds - 25 minutes
Module 3 – Control cattle to cattle risk (part 2) - within herd spread, slurry management - 35 minutes
Module 4 – Badger Ecology and the Role of Wildlife in TB - 50 minutes
Module 5 – Practical Measures to Reduce Disease Risk on Farm – 35 minutes
Module 6 – Contingency Planning for business continuity, summary – 15 minutes
BCVA headquarters will be alerted to your completed training and quiz, and our office staff will email your CPD certificate. This course accounts for four hours of CPD.
---
Below is a map showing all BATVA Registered Vets
Click the square logo in the top right corner to make the map and list bigger.